Activities
We run a number of regular groups which give people the chance to learn new skills, make friends and socialise. New members are always welcome so give us a call to find out more.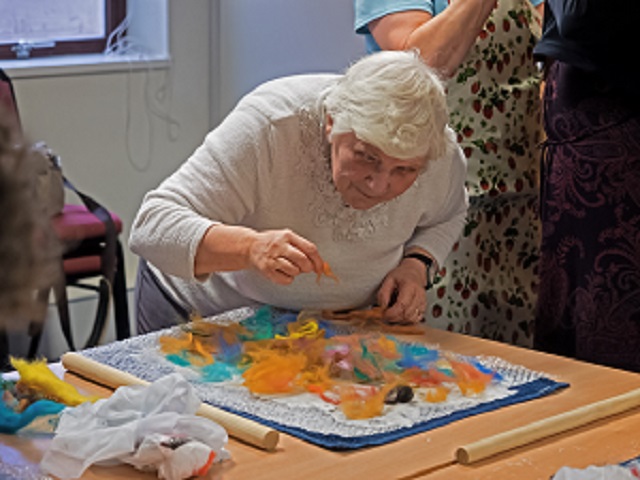 Here are some of the things currently on offer:
Knit 'n' natter: a great excuse to have a cuppa & a biscuit and do some knitting. Meets 2nd and  4th Tuesday of the month 10:00 – 12:00
Singing: A great excuse to get together and raise the roof. 3rd Tuesday of the month 10:00 – 12:00
Exercise classes: a seated exercise group runs weekly on Thursday 10:00 – 12:00
Board games: whether it be chess, dominoes or Monopoly, we have it covered at the games group. 3rd Wednesday of the month 10:00 – 12:00
Discussion: a mixture of topics and exciting guest speakers. 4th Wednesday of the month 10:00 – 12:00
Book group: a great opportunity to listen to titles new and old.  Meeting 1st Tuesday of the month 10.00-12.00
Walking group: a great opportunity to get out into the fresh air and do some exercise, there is a break for coffee and chatter. 1st Wednesday of the month 1:30 – 3:30
Boccia: a fun and exciting precision ball sport, similar to bowls or petanque.  The aim of the game is to throw leather balls – coloured red & blue as close as possible to the white target ball (jack). Fortnightly on Friday 10:00 – 12:30
Technology Group: for more information on this group click here
Social Inclusion Group: for anyone who is interested in local and national campaigns covering everything from road crossings and "A" boards to shared spaces.
Socialeyes: a fun and friendly group for people of working age to meet and participate in social events.
We also hold information sessions and courses, including:
Coffee & Information sessions, where you can ask questions and meet other people living with sight loss in a relaxed setting over a hot drink
Finding Your Feet courses, designed to discuss the challenges of living with sight loss with people who have been through it. These courses are open to anyone including friends and family.
IT training sessions, both one-to-one and in small groups focusing on mobile technology
One-off workshops and visits by technology companies
Consultation meetings where you can have a say on local issues
Details of all our activities can be found on the Events page or you can telephone 01904 636269 for more information.